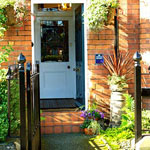 Alcuin Lodge Guest House York offers Bed and Breakfast accommodation a short stroll away from the centre of historic York (7-9 minutes on foot to York Minster), set in a quiet residential area. Our guest house is the ideal base for your stay in the city. We look forward to providing a warm welcome to visitors from the UK and around the world. 
As a small, independent guest house (5 rooms), we can offer a friendly and personalised service and aim to ensure our guests feel at home. Whether you're planning a romantic getaway, a shopping trip, a cultural visit, in the city on business or just taking a short break, the  attractions of York are all on our doorstep.              
Bed and Breakfast Special Offer
CALL TO BOOK - 01904 629837  /  07891 855667 
Up to 10% discount available for bookings by phone and email - quote code FBC15 at time of booking. (Conditions and restrictions apply)
Please call us to enquire about dates not showing online - we offer first choice to returning guests and those booking direct by phone and email

---
What our guests are saying about us: 
"We stayed here for a romantic break this year and I must say that this is a wonderful place to stay. We have been to York a number of times and this has been my favourite hotel - most definitely better than some of the more expensive hotels we have visited. Darren's knowledge of the city mixed with his kind and professional manner make him the perfect host. Breakfast was wonderful and cooked to order and to perfection!!! The room itself was beautiful, comfortable and a lovely place to come back to after a long day of shopping and touring our favourtie city. Fantastic place to stay if visiting York. Room 2 was lovely, with a compact yet beautifully modern bathroom and very comfy bed!" 
Read more..